eMobilePOS and CHERRY have created a low-cost mobile point-of-sale solution for the Apple iPhone® and iPod touch® that is offered to Costco business and executive members.
FORT LAUDERDALE, FL – September 3, 2013 – e-Nabler Corp., creators of the award-winning mobile POS software eMobilePOS has teamed up with CHERRY to create an all-in-one mobile POS solution for the Apple iPhone and iPod touch that will be sold by Costco. The solution pairs the eMobilePOS app with the CHERRY's iTransigo mobile POS sled, which adds a credit card reader, receipt printing and a barcode scanner to the iPhone and iPod touch. The solution is offered to more than eight million Costco business and executive members on www.costco.com.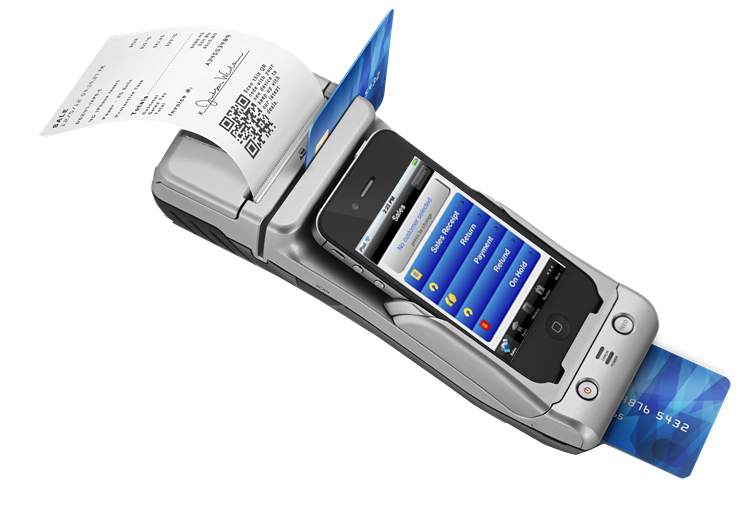 The mobile POS solution from CHERRY and eMobilePOS enables businesses to turn iPhones and iPod touch devices into low-cost cash registers. It provides the ability to process sales transactions, manage inventory, track sales, and integrate with QuickBooks and Sage 50―and it can be operated from anywhere, enabling line-busting, tableside orders and mobile payments. Coffee shops, restaurants, retailers and other small businesses such as daycare centers, landscaping contractors and car detailing businesses can benefit from this solution.
"A POS system is no longer a complex and costly investment; eMobilePOS makes it affordable for small businesses and you can be up and running in minutes," says Joel Vázquez, president of e-Nabler. "Costco gives us the opportunity to have a huge footprint in terms of reaching customers and equipping them with a true business-grade mobile POS system."
"By partnering with eMobilePOS, we can provide all the features of a traditional POS system but at a fraction of the cost, and it is available wherever your business takes you," says Mark Bondzinski, CID product manager at CHERRY. "The solution works right out of the box and has been through the Costco vetting process to ensure good quality."
About e-Nabler Corp.
Founded in 2001, e-Nabler, the company behind the award-winning eMobilePOS software, is one of the pioneers in mobile POS solutions and cloud-based software-as-a-service. eMobilePOS was the first full-featured POS app on iTunes and has to date processed more than 1.3 billion transactions. The company was recognized with the "Best New Mobile App" by AT&T during CTIA in 2008 and was awarded RSPA's Innovative Solution Award at RetailNOW 2011. eMobilePOS is available through the Apple App Store, and a version for the Android market will soon be launched. Wow your customers with eMobilePOS, one sale at a time!
For more information, please visit www.eMobilePOS.com or follow us on Twitter at @emobilepos and on Facebook.
About CHERRY
CHERRY has developed and produced innovative computer input devices and systems since 1967. The differences in quality, reliability, durability and design need to be experienced firsthand. No other manufacturer has more experience and knowledge worldwide. From government installations and corporate PKI applications to POS solutions, CHERRY provides a wide variety of sizes, features and configurations. CHERRY is also known for its durable keyboard designs featuring mechanical key switches rated to more than 50 million operations, making them ideal for any industrial and commercial application. Looking for the best products, services and support? Look for CHERRY!
For more information about CHERRY, visit http://www.cherrycorp.com or http://www.facebook.com/cherryzf.