eMobilePOS and Handpoint Team up to Provide EMV Compliant 'Next-Gen' Retail & Hospitality POS Solutions
Cost-efficient, turnkey handheld and tablet POS solutions with integrated chip and PIN payment capability and point-to-point encryption take pressure off merchants rushing to meet the October 2015 EMV deadline. Learn more about the partnership and the EMV ready solution at Transact 15, March 31 to April 2 in San Francisco.
FORT LAUDERDALE, Fla. — March 30, 2015— e-Nabler Corp., developer of the award-winning mobile POS software eMobilePOS today announced a partnership with Handpoint Inc., a leader in EMV payment services and winner of the 2015 Fintech Innovation Award for mobile POS.
Through the partnership, merchants get access to a turnkey tablet and handheld-based POS solution that complies with the quickly approaching Oct.15, 2015, EMV deadline. The new EMV standard mandates that U.S. merchants replace magnetic strip readers with chip and PIN readers or the merchant will assume liability for fraudulent purchases.
eMobilePOS has integrated and certified three Handpoint chip and PIN payment devices, including the Handpoint HiLite, HiBrid, and HiPro, enabling eMobilePOS to offer fully integrated EMV-certified payment processing. Card data is protected by point-to-point encryption between the PIN pad device and the payment gateway, significantly reducing the risk for the merchant. In addition to chip and PIN, Handpoint readers also have NFC and MSR capabilities.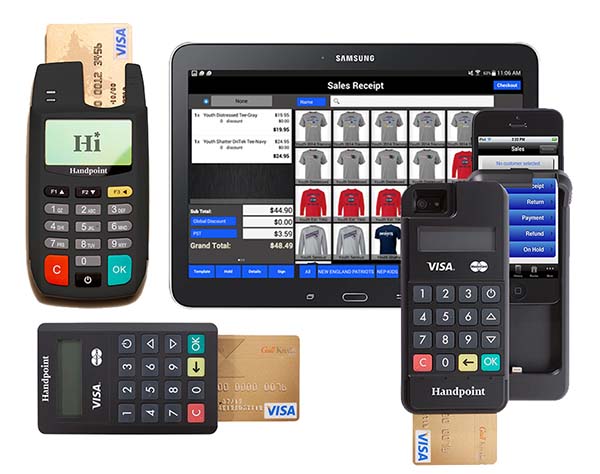 Existing eMobilePOS users can upgrade their current POS solutions to EMV status by simply adding a low-cost Handpoint chip and PIN reader that is paired with a handheld or tablet POS device. This is an affordable and quick way to become EMV-compliant and secure.
"The EMV liability shift is causing U.S. merchants to reconsider their POS needs. New tablet-based POS systems are making the switch affordable and attractive for merchants of all sizes," said Jody Muehlegger, head of U.S. operations at Handpoint. "Our partnership with eMobilePOS provides small and midsized merchants access to 'next generation' handheld and tablet-based POS systems with enterprise-class functionality and integrated EMV payments—at a fraction of the cost of a legacy solution."
"Handpoint complements the eMobilePOS offering by providing secure, EMV-certified payments to eMobilePOS users across multiple industries," said Joel Vázquez, president and CEO of eMobilePOS. "With this partnership we continue to deliver on our promise of providing more options and up-to-date systems to our clients."
The joint solution will be demonstrated in booth # 211 at the ETA Transact 15, March 31 to April 2 in San Francisco.
The eMobilePOS and Handpoint solution is available through main distribution channels. Please contact eMobilePOS or Handpoint for more details.
About e-Nabler Corp.
Founded in 2001, e-Nabler, the company behind the award-winning eMobilePOS software, is one of the pioneers in mobile POS solutions and cloud-based software-as-a-service. eMobilePOS was the first full-featured POS app on iTunes and has, to date, processed more than 3 billion transactions. The company was recognized with the "Best New Mobile App" by AT&T during CTIA in 2008 and was awarded RSPA's Innovative Solution Award at RetailNOW 2011. eMobilePOS is available for Apple iOS and Android. For more information, please visit www.eMobilePOS.com or follow us on Twitter at @eMobilePOS and on Facebook.
About Handpoint Inc.
Handpoint provides a complete payment solution as a service for next-generation point of sale systems, delivering pre-certified chip (EMV) and contactless (including Apple PayTM) payments to POS developers with just a few lines of code. Handpoint has been a global innovator in payments, winning both the prestigious 2015 Fintech Innovation Award for mobile POS and 2014 Payments Award for the world's first PCI certified point-to-point encryption for mobile (PCI-P2PE). Handpoint provides sleek card readers and payment services in Europe, South Africa, and now expanding to North America, supporting ISVs with a fast, efficient and cost-effective EMV solution prior to the October 2015 liability shift. Learn more at www.handpoint.com and explore our simple APIs at dev.handpoint.com.
Contact details
eMobilePOS
Matthew Inan, Director of Business Development and Sales Operations,
Tel: 954-258-9773 | mginan@e-nablercorp.com
Handpoint
Jody Muehlegger, Head of U.S. Operations
Tel: 617-803-7204 | jmuehlegger@handpoint.com