NFL Shops used eMobilePOS at the XLIX Super Bowl
The NFL shops were using eMobilePOS to sell team apparel and merchandise to Patriots and Seahawks fans at the XLIX Super Bowl in Phoenix. The NFL shops had been set up with fully equipped iPad-based counter stations powered by eMobilePOS, featuring a secure mount/stand, cash drawer, bar code scanner, receipt printer, and a NFC-enabled Genius payment device from Cayan that supported contactless payment, including Apple Pay™. The NFL shops were also using eMobilePOS for iPod touch in combination with the Honeywell SL22 Captuvo sled and the Star SM-T300i printer that allowed for payments to be processed from anywhere in the store.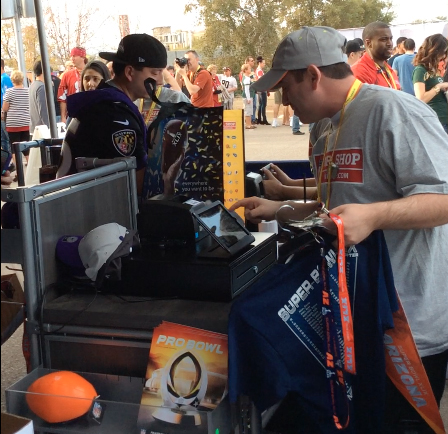 Speedy service and checkout is crucial during sports events. Fans want to quickly purchase their favorite team jerseys and other souvenirs and then get straight back to the game. eMobilePOS made the checkout easy and quick and the iPod touch devices made it possible to quickly add extra capacity during peak times and process payments from anywhere in the store.
eMobilePOS was used in the NFL shops located in the University of Phoenix stadium during both the Super Bowl game and the Pro Bowl game. In addition, eMobilePOS was used in NFL shops in the Phoenix convention center, five NFL contracted hotels, and in temporary retail tents and trailers outside the stadium and convention center.