The NFL Shops use eMobilePOS to sell Patriots and Falcons gear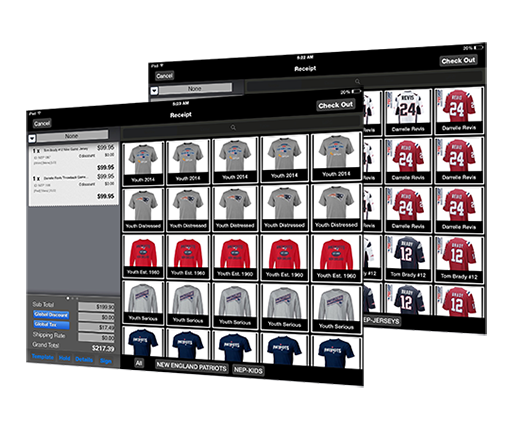 Thanks to our partner International Micro System, eMobilePOS will be used to sell NFL team gear at the Super Bowl LI for the third year in a row.
The NFL shops have been set up with fully equipped iPad 'hybrid' countertop POS stations powered by eMobilePOS, featuring the Star TSP650 printer and Cayan Genius payment devices. iPod touch devices with Honeywell's Captuvo sled are used to process mobile payments. eMobilePOS has been fully integrated with Retail Pro to work seamlessly with the legacy POS system that was already in place.
Speedy service and checkout is crucial during sports events. Fans want to quickly purchase their favorite team jerseys and other souvenirs and get straight back to the seat. eMobilePOS speeds up the checkout and the iPod touch devices make it possible to quickly add extra capacity during peak times and process payments from anywhere in the store.
eMobilePOS is used at the NFL shops located at the NRG Stadium in Houston during both the Super Bowl game and the Pro Bowl game. In addition, eMobilePOS is used at NFL shops in the Houston convention center, contracted NFL hotels, and pop-up retail tents and trailers outside the stadium and convention center.