Recap of RSPA Mobility Roundtable
The RSPA Canada Networking event for resellers was held on November 3rd in Vancouver and Matt Inan from e-Nabler was the moderator for the mobility roundtable discussion. The discussion was focused on end users' concerns and pain points and some of the concerns that VARs might have as they enter the mobile market.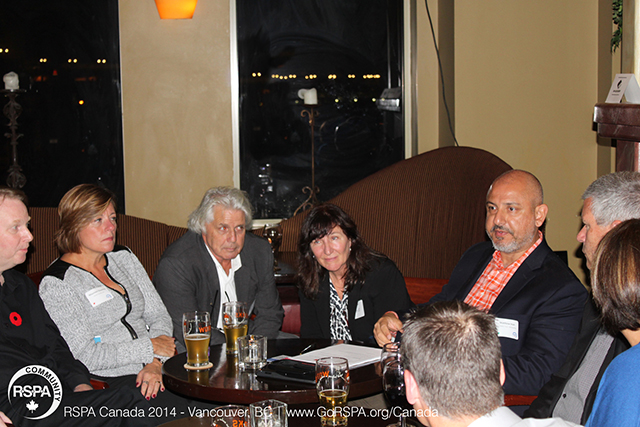 Here are some of the topics that were covered:
Does tableside ordering on mobile devices take away the focus (eye contact) from the patrons?
Within days of initial deployment, waiters can take orders as quickly on a mobile device as on a piece of paper. Since orders are pushed wirelessly to the kitchen, food preparation can start earlier and patrons spend less time waiting. Speed of service is significantly improved with positive impact on customer satisfaction.
How can VARs benefit when retailers move to a mobile environment?
The adoption of mobile POS impacts merchandising and retailing and the process is different compared to a cash-wrap centered retail operation. This provides opportunities for VARs to become trusted advisors with the potential providing additional consulting services.
Is a cloud-driven solution secure enough?
Sometimes, not having the perceived data security of an on-site server and the ownership of data make some people anxious but most of the time merchants don't have resources, funding, nor the time to spend on protecting their systems and that is why data is more secure with professionals whose business are focused on securing that information. In addition, a cloud-driven system like eMobilePOS provides greater fault-tolerance and redundancy.
How can I make more money on hardware in a time when the income from hardware is decreasing?

Merchants often have a certain budget to spend on its POS systems.  As an example, a merchant that typically would order three counter-top legacy POS stations would most likely order two tablet-based POS and a mobile POS device per waiter or sales associate, increasing the overall investment in hardware. Merchants get more for their money and the VARs' maintain their income and typically earn more dollars on hardware, as the merchants will update their devices sooner.
How should VARs best handle the move from a license-based software model to a software-as-a-service (SaaS) model?
Most successful VARs have transitioned gradually from a license-based model to a SaaS-based model without dropping their legacy products. Over time, the portfolio has reached the critical mass necessary to fund the sales resources to sell even more SaaS solutions. These VARs typically revenue share and commission their sales force over the lifetime of their customers. The relationship becomes more service oriented and it is easier to budget for all involved. Some ISVs offers assistance with monthly billing and collections but the modern-day VAR is already gearing up to do recurring billing for reoccurring software assurance fees.
Is the mobile POS software really mature enough and the hardware durable enough?
Choosing the right solution and understanding its limitations are key success factors. eMobilePOS has been hardened by thousands of customers and have processed +3 billion transactions. It offers a broad selection of eMobilePOS certified peripherals. Some of the tablets and handheld devices are consumer grade but when inserted into an enclosure and/or sled, they are fairly ruggedized. This is an opportunity to enable merchants to interact with the customer right where the customer is thereby increasing sales and satisfaction.
How is the integration of mobile payments handled?
The integrating mobile payments is challenging, especially in Canada and other places where EMV Chip and PIN payments are prevalent, but it also presents a huge opportunity. The preference and the full return on mobility investments require single-handed devices with integrated payments capability. Having said this, there are many very successful use cases for mobile POS systems with a non-integrated separate payment device.