eMobilePOS Certifies Elo PayPoint to Provide Streamlined POS Solution for Android and Apple iPad Tablets
Certification Provides Merchants a Turnkey, All-in-One, Tablet-Based POS Solution at Lower Cost
MILPITAS, CA–(Marketwired – Mar 3, 2016) –
Elo
, a leading global supplier of touchscreen solutions, today announced that e-Nabler Corp., developer of the award-winning eMobilePOS® software, has certified
Elo PayPoint®
, an all-in-one point of sale (POS) solution for Android™ and iPad® tablets for use in specialty stores, restaurants, coffee shops and venue-based merchants.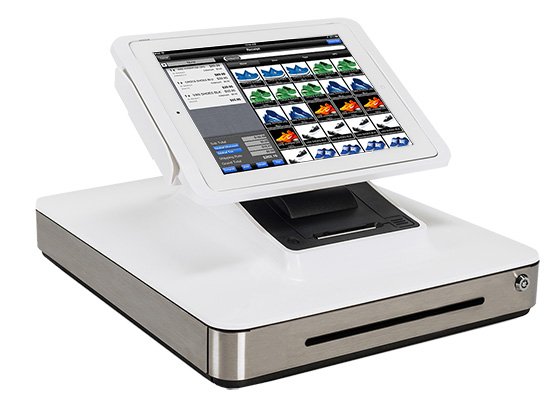 Elo PayPoint provides a sleek and modern tablet-based POS paired with a compact, space-saving design that includes a built-in receipt printer, credit card reader, barcode scanner and cash drawer. An optional EMV-compatible chip and PIN reader and NFC reader for contactless payments can also be added to the solution. The 13-inch flip-to-sign display makes it easy to engage with customers and capture signatures and other customer details directly on the screen. eMobilePOS enables merchants to securely process payments, manage inventory and access sales reports in real time. In addition, eMobilePOS seamlessly integrates with leading accounting and legacy POS systems, and it has a full-feature gift card and customer loyalty program.
"Merchants are looking for affordable POS solutions that offer more functionality and are easy to install and manage," said Joel Vázquez, president and CEO of e-Nabler. "The combined Elo and eMobilePOS offering provides much greater functionality than legacy POS systems and delivers more flexibility and style — at significantly lower cost."
e-Nabler's certification of Elo PayPoint ensures full compatibility and maximum performance when the hardware is used in combination with the eMobilePOS software and other peripherals certified by e-Nabler. The certification provides merchants with a reliable plug-and-play solution that works right out of the box.
"Both Elo and eMobilePOS are great examples of how POS can be simple, fully functional and affordable," said Craig Witsoe, CEO of Elo. "By providing a hardware platform for software partners like eMobilePOS, we ensure that merchants have access to turnkey, tablet-based POS solutions that are reliable, easy to use and cost-efficient."
Elo PayPoint running eMobilePOS is available to demo in booth 31 at the Multi-Unit Restaurant Technology Conference (MURTEC), March 14-16, 2016, in Las Vegas and at the eMobilePOS Partner Expo & Conference (EPEC'16), March 20-22, in Puerto Rico.