Full-featured mobile point-of-sale solution provides all the functionality of a traditional POS but fits in the palm of the hand.
NEW YORK – Jan. 13, 2013 – eMobilePOS, an award-winning mobile point-of-sale solution for the Apple iPhone, iPod touch and iPad will be demonstrated by several well-recognized companies such as Ingenico (booth # 1653) Merchant Warehouse (C252), Honeywell (1345), Cherry (C413-415), STAR Micronics (1311) and APG Cash Drawer (1654) during the Retail's Big Show in New York City this week.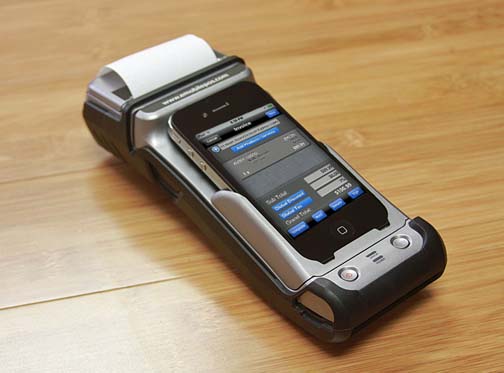 Attendees at the show will be able see a live demo of eMobilePOS, which is a fully-integrated retail system that turns iPhones, iPads and iPod touches into full-featured POS devices with integrated inventory control. The solution includes the cloud-based eMobilePOS software, which can be downloaded to the device directly from the Apple App Store, and a back-office console, which provides a single point of control with real-time access to sales analytics. eMobilePOS has certified a broad range of peripherals that allow merchants to customize the solution with credit card readers, wireless cash drawers, printers and barcode readers. Furthermore, merchants are free to choose the payment processor with the most cost-efficient plan.
eMobilePOS provides plug-and-play integration with the leading accounting, ERP, CRM and POS systems such as QuickBooks, Sage Peachtree, Microsoft Dynamics and SAP to ensure that merchants always have access to accurate data.
eMobilePOS is primarily marketed through distributors, resellers and solution partners.
"Our team seeks to maximize mobility, streamline processes and improve retailers' bottom line by providing a complete POS solution that fits in the palm of the hand," said Joel Vázquez, president of e-Nabler. "eMobilePOS removes the boundaries of the old point of sale terminal, creating new opportunities and increases the sales volume. During NRF, we are introducing eMobilePOS to a broader retail audience while attracting new solution partners and resellers."
About e-Nabler
Founded in 2001, e-Nabler, the company behind the award-winning eMobilePOS software, is a pioneer in mobile point-of-sale solutions and cloud-based software services. eMobilePOS was the first full-featured POS app on iTunes and has processed more than 1.3 billion transactions. The company was recognized as the "Best New Mobile App" by AT&T during CTIA 2008 and was awarded RSPA's Innovative Solution Award at RetailNOW 2011. eMobilePOS is available through the Apple App Store and a version for the Android market will be launched soon. For more information, visit www.eMobilePOS.com or follow us on Twitter or Facebook.
Contact details: 
Claudia Serbiá, Mouth Media Public Relations
+1 787-549-2272, claudia@mouthmediaint.com
Matthew G. Inan, Director of business development, e-Nabler Corp.
+1 305.968.6472, mginan@e-nablercorp.com