eMobilePOS Provides In-Seat Ordering and Speedy Checkout for Food Concession and Merchandise Sales
eMobilePOS is a tablet and handheld-based POS solution that provides speedy checkout for food concessions and merchandise shops, located in arenas and stadiums where fans don't want to miss a minute of the game or concert. Also use for in-seat ordering or self-service kiosks. 
Tablet and Handheld POS
Support for both tablet and handheld POS
Save valuable counter space and install in minutes
Built to speed up checkout and keep lines moving during peak hours
Accept any type of payment, including credit cards, checks, cash, NFC-enabled payments, and gift cards–even off-line
Add handheld devices for line busting during peak hours without taking up extra space
Food Concession Sales
Create electronic tickets on the tablet or handheld device and send wirelessly to the kitchen
Reduce the time spent per order and eliminate mistakes by placing orders electronically instead of on a piece of paper
Prompt cashiers to ask for add-ons to increase the average check size (e.g. "hold the onion but add bacon to a hamburger or add toppings to the pizza")
In-Seat Ordering
Greatly increase food sales by allowing fans to order and pay for food and beverage from their seats and have it delivered to them
Tableside Service
Speed up service and improve table turns by allowing fans to order and pay for food directly from a tablet mounted to the table
Servers can take orders and process payments right at the table with a tablet or handheld–enabling faster service and less mistakes
Merchandise Sales
Quick and easy installation makes it a perfect POS solution for pop-up merchandise sales that can be set up (and pack away) in minutes
Increase capacity without taking up valuable real estate by adding extra handhelds or tablets for line busting
Self-Service Kiosk
Increase capacity and keep lines moving by adding eMobilePOS Kiosk for self-service ordering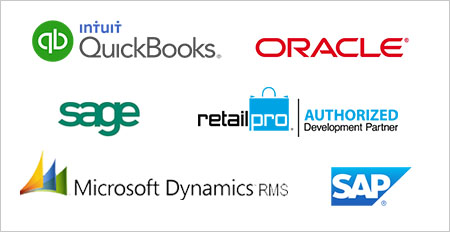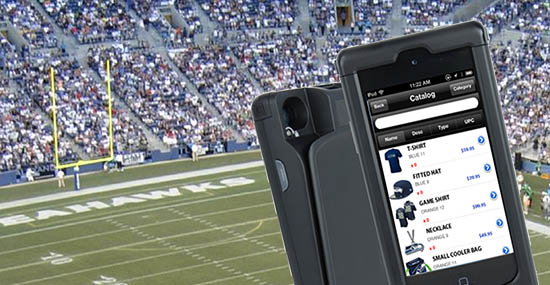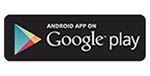 Learn how Seattle Seahawks are using eMobilePOS to sell more team merchandise. Download case study
Secure Payments
EMV ready with the ability to accept chip and pin payments
Accept NFC-based payments such as Apple Pay and Google Wallet
Scalable and Cost-Efficient
Use stand alone or seamlessly integrate with QuickBooks, SAGE and other accounting systems
Chose from a broad selection of stylish and compact hardware solutions
Enjoy the freedom of choice to select the most cost-efficient payment processor
Pay a low monthly fee with no upfront investments in software licenses or servers–affordable even for small businesses
Keep Track of Business
Access web-based dashboard analytics with real-time visibility to sales and other key metrics from any type of device
Keep track of the inventory to make that the best-sellers are always in stock and reduce wast
Key Features
Process credit cards, checks, cash, gift cards, and NFC-enabled payments
Wirelessly send orders to a printer or display
Select or withhold add-ons
Put orders on hold and reopen tickets
Enter tips
Sign on the screen
Email or print receipts
Control a wireless cash drawer
Scan QR codes and other bar codes
Apply coupons and discounts
Track the business in real-time
Manage products attributes, product categories, and add-ons
Grow the business with a fully integrated gift cards and loyalty program
Integrate with legacy POS and accounting systems
Keep track of employees hours
Access web-based dashboard analytics in real-time
Generate sales reports

Experience eMobilePOS Live. Sign Up Now.