iPad Kiosk POS: Self-Service Checkout
eMobilePOS Kiosk Edition transforms iPad into an easy-to-use, interactive self service kiosk. It enables customers to place orders, select add-ons and modifiers, apply coupons, earn and redeem rewards, and pay−in a few simple steps.
Versatile iPad kiosk app for many user scenarios
Increase capacity without occurring extra labor cost
Offer self service checkout as a complement to the regular POS system
Run 24/7 self service micro markets in offices, hotels, and gyms
Use for tableside ordering to speed up service, reduce labor costs, and boost order size
Use for self-serve ordering at the counter or drive-thru in quick service restaurants
Allow customers to order items that are not available in the store to have them home delivered
Use stand alone or complement the regular POS
eMobilePOS Kiosk Edition is built on the same platform as the successful eMobilePOS software, but it has been simplified and adjusted for consumer interaction. eMobilePOS Kiosk can be used as a complement to eMobilePOS or as a stand alone system that operates a micro market or other type of self-service vending solution. It also offers full compatibility and seamless integration with legacy POS systems as well as leading e-commerce, accounting, and ERP systems such as QuickBooks, SAGE, Microsoft Dynamics RMS, Nexternal, and Retail Pro.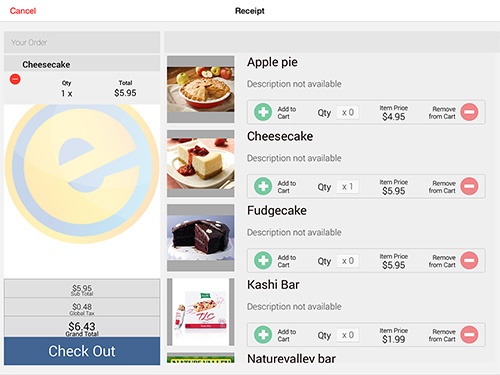 EMV ready kiosk payments
At checkout the customer selects  payment method and swipes his or her card. eMobilePOS Kiosk is EMV compliant and has certified several chip and PIN readers. In addition, eMobilePOS Kiosk supports NFC-enabled payments such as Apple Pay, Google Wallet, and Tupyx eWallet. Gift cards can also be used as payment method.

Track kiosk sales in real-time
A web portal with dashboard analytics allows merchants can track sales activities in real-time as well as see transaction history with the ability to view more detailed information about a specific transaction or most popular products.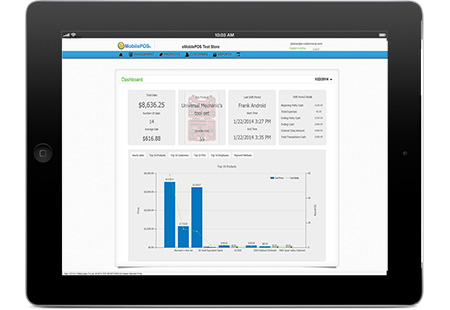 Intuitive user interface for consumer interaction
Depending on the application, customers can start a new order by scanning the product's bar code or by tapping on the item on the touch display. The simple step-by-step user interface makes the checkout process fast and intuitive. Photos provide good visuals of the products and help promote additional purchases and add-ons.
Earn and redeem loyalty rewards
At checkout the customer has the option to sign up for a customer loyalty card and enter his or her loyalty card number to earn or redeem points. eMobilePOS Kiosk has a fully integrated gift card and customer loyalty program, called Tupyx.

Cloud-based subscription model
eMobilePOS Kiosk is sold as Software as a Service (SaaS) – with no upfront software license expenses or investment in servers, making it affordable even for small business owners. The low monthly subscription fee includes maintenance and support as well as all future updates of eMobilePOS Kiosk.

Key features
Customizable home screen (background image, logo, message)
Easily add or remove products
Scan the item's bar code or tap on item on the screen
Provide good visuals with high resolution product photos
Select add-ons and modifiers
Add tips
Sign on the screen
Sign up for loyalty card
Earn and redeem loyalty/rewards points
Issue and redeem gift cards
Pay with credit and debit cards
Accept EMV compliant payments with support for chip and PIN
NFC-enabled payments such as Apple Pay, Google Wallet and Tupyx eWallet
Enter shipping address
Email and/or print receipts
Ring up sales in any situation, even off-line if necessary
Remotely monitor usage and track sales

Experience eMobilePOS Kiosk Edition Live.