Full-Feature iPad POS
eMobilePOS for iPad is an all-in-one POS software that fits all the functionality of a traditional POS workstation into an iPad, providing stylish design, intuitive use, and flexibility—at significantly lower cost. From speedy checkout to keeping track of customers, inventory, and sales performance, eMobilePOS does it all.
Use in any sales scenario
Easy-to-use iPad interface that both employees and customers are used to from their everyday lives—gets everybody up to speed in a snap.
Highly scalable—use in small mom and pop's stores and restaurants as well as corporate chains with many locations.
Easily configurable interface—for use in quick service restaurants, bars, coffee shops, food trucks, boutiques, specialty stores, large retail chains, and department stores.
Stand-alone or seamless integration
eMobilePOS can be operated as a stand-alone POS solution but also offers compatibility and full integration with QuickBooks, SAGE 50/100/300/500, Microsoft Dynamics RMS, Retail Pro, Oracle and SAP to mention a few.
Reliable, certified peripherals
A broad range of certified peripherals, including secure POS stands, EMV certified chip and PIN readers, MSRs, receipt printers, and bar code readers allows merchants to turn the iPad into the perfect POS solution for them.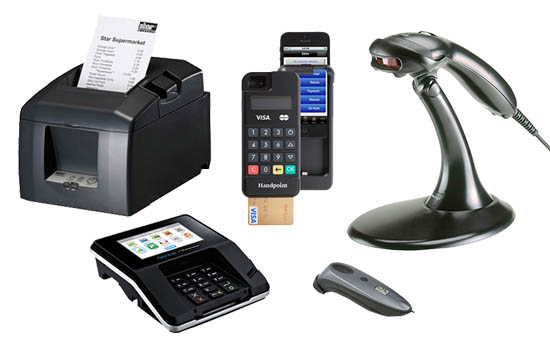 NFC and EMV ready payments
eMobilePOS offers EMV compatible chip and PIN payments as well as the ability to process checks (ACH and Check21), gift cards, and cash. In addition, it supports Apple Pay and other contactless payments.
Since eMobilePOS is a native application, it can process both online and offline sales.
Track sales in real-time
A web portal with dashboard analytics allows merchants  track sales activities in real-time as well as see transaction history with the ability to view more detailed information about a specific transaction or the most popular products.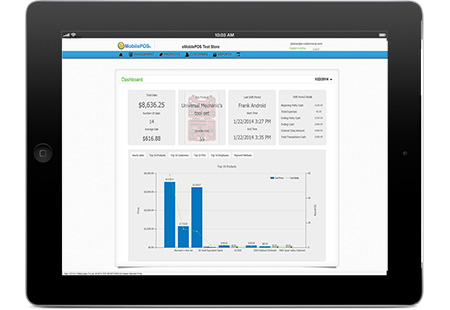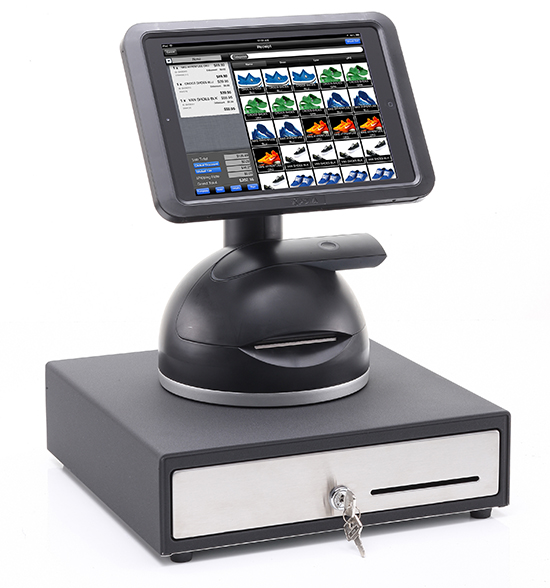 Earn and redeem loyalty rewards
At checkout the customer has the option to sign up for a customer loyalty card and enter his or her loyalty card number to earn or redeem points. It allows merchants to track customers and send personalized promotions. In addition, merchants can issue gift cards from inside eMobilePOS.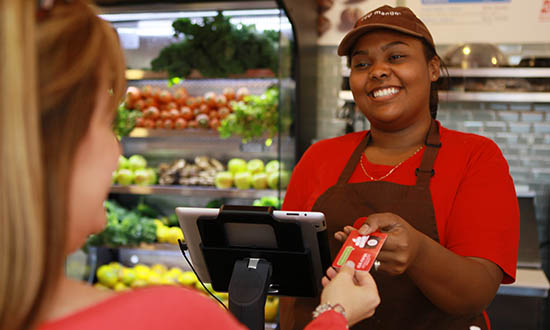 Cloud-based subscription model
eMobilePOS is sold as Software as a Service (SaaS) – with no upfront software license expenses or investment in servers, making it affordable even for small business owners. The low monthly subscription fee includes maintenance and support as well as all future updates of eMobilePOS.
Key features
Customizable home screen (background image, logo, message)
Easily add or remove products
Scan the item's bar code or tap on item on the screen
Provide good visuals with high resolution product photos
Select add-ons and modifiers
Add tips
Sign on the screen
Sign up for loyalty card
Earn and redeem loyalty/rewards points
Issue and redeem gift cards
Pay with credit and debit cards
Accept EMV compliant payments with support for chip and PIN
NFC-enabled payments such as Apple Pay, Google Wallet and Tupyx eWallet
Enter shipping address
Email and/or print receipts
Ring up sales in any situation, even off-line if necessary
Remotely monitor usage and track sales

Experience eMobilePOS for iPad Live.