Mobile POS for Tableside Ordering and Payment
More attentive service with positive impact on table turns and average check size
eMobilePOS is a full feature mobile point-of-sale (POS) solution for Android and Apple iOS tablets and smartphones.  Whether you run a quick service restaurant, operate a food truck or serve drinks by a hotel pool or in a casino, eMobilePOS enables table side ordering and payment, with positive impact on sales and the productivity of the servers while improving the customer experience.
No More Handwritten Notes. Less Mistakes
Instead of handwritten notes, servers enter orders directly on Apple iOS or Android smartphone or tablet, and the orders are wirelessly transmitted to the kitchen. No orders are lost, and the risk for mistakes is significantly reduced.
Promote add-ons. Increase the average check size.
The eMobilePOS software prompts the server to ask for add-ons (e.g. "hold the onion but add bacon to a hamburger or add toppings to the pizza"), which help increasing the average check size and making sure the customer gets exactly what he or she wants.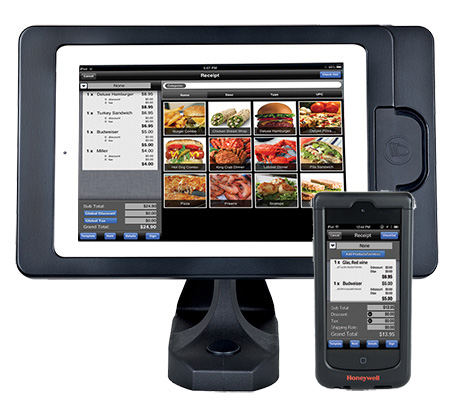 Speedy service. Accept payments at the table.
When the guest is ready to pay, eMobilePOS generates the check directly from the order and card payments are processed right at the table and the receipt can be emailed or printed. It allows fewer servers to handle more guests and checks can be settled faster. Guests appreciate prompter service and tables can be turned faster.
Know your patrons. Manage customer data.
New customer profiles can be added and existing profiles can be edited directly on the mobile device. Email addresses can be collected for marketing purposes.
Reward regulars. Increase customer loyalty.
eMobilePOS is fully compatible with several leading gift and loyalty programs, allowing merchants to reward regulars and use promotions to increase sales.
Visibility. Access to realtime analytics data
Web-based analytics provides real-time insight to the business performance and can be accessed from a mobile device. Track sales, inventory, and taxes for one or several locations.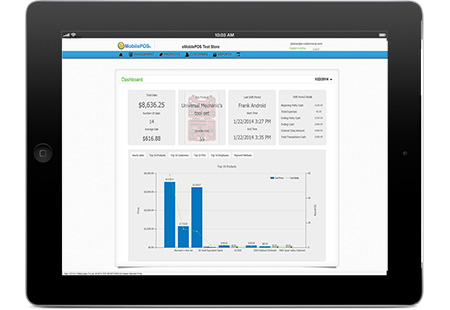 Freedom of choice. Select any payment processor
eMobilePOS does not lock you in with a payment processor, it allows you to pick the most cost-efficient card acceptance solution for your business.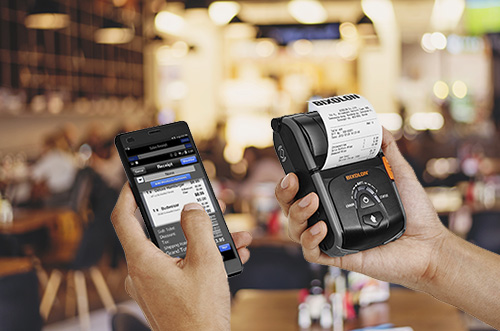 Key features
Tableside ordering and payment

Process credit cards, checks and cash payments
Wirelessly send orders to the kitchen or bar
Select or withhold add-ons
Promote specials and add-ons
Put orders on hold and reopen tickets
Enter tips
Email or print receipts on-the-spot
Control wireless cash drawer
Scan QR codes and coupons
Track the business in real-time
Add products, product categories and change price
Integrate gift cards and loyalty program
Integrate with legacy POS and accounting systems
Employee time keeping
Access web-based dashboard analytics in real-time
Generate sales reports
Download datasheet (1MB PDF)
Affordable. Cloud-based subscription model.
eMobilePOS is sold as Software as a Service (SaaS) – with no upfront software license expenses or investment in servers, making it affordable even for small business owners. The low monthly subscription fee includes maintenance and support as well as all future updates of eMobilePOS.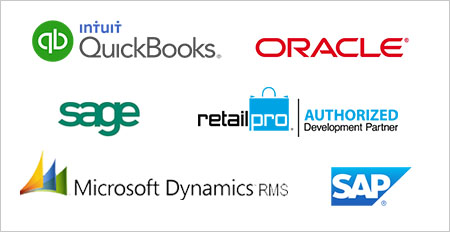 Compatibility. Integration with QuickBooks and SAGE.
eMobilePOS offers full compatibility and seamless integration with QuickBooks, SAGE, Microsoft Dynamics RMS, and Retail Pro to mention a few, making sure that all data captured with eMobilePOS is sent to the accounting system and vice versa. eMobilePOS focuses on mobility and offers connectors that enables it to interface with traditional POS systems, thus enhancing the functionality of these systems and protecting the customer's investment.
Reliable and speedy setup. Certified peripherals.
A broad selection of certified peripherals such as mobile printers, card readers, sleds, stands, and cash drawers are available and provides plug-n-play installation right out of the box and can easily be adapted to different business requirements. As an example, tablets can be used as a stationary POS stations and moments later they can be used for mobile applications on the sales floor.


Experience eMobilePOS Live. Sign Up Now.