eMobilePOS Speeds Up Coffee Ordering and Preparation
eMobilePOS is an easy-to-use full-feature POS solution and a great fit for coffee shops that need to keep lines moving. 
POS for coffee shops
Use on both tablets or handhelds
Cashiers learn how to ring up sales in no time
Send orders  wirelessly to a barista screen or printer to speed up ordering and preparation
Prompt cashiers to ask for add-ons, resulting in more sales
Keep track of coffee sales
Track sales in real-time
Identify best-selling menu items
Keep track of the inventory and reduce food waste
Reward loyal patrons
Fully integrated rewards program makes it easy for customers to earn and redeem rewards
Quickly capture customer data that can be used for email promotions to drive more business

Affordable even for small businesses
Use stand alone or seamlessly integrate with QuickBooks, SAGE and other accounting systems
Choose from a broad selection of stylish and compact hardware peripherals that save valuable counter space
Save big by selecting the most cost-efficient payment processor
Low monthly fee with no upfront cost for software licenses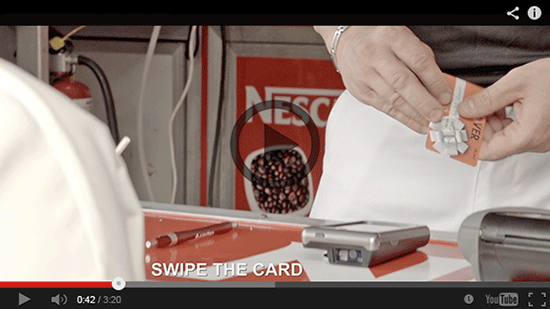 Watch how Nescafe uses eMobilePOS in its mobile coffee truck
Secure payments
EMV ready with the ability to accept chip and pin payments
Accept NFC-based payments such as Apple Pay and Google Wallet
Handheld and Kiosk POS
Add a handheld POS device for line busting during peak hours
eMobilePOS Kiosk can be used for self service ordering and checkout at a drive thru or inside the coffee shop
Key features
Process credit cards, checks and cash payments
Issue and accept gift cards
Put transactions on hold
Email or print receipts
Earn and redeem loyalty/rewards points
Capture customer information for email marketing
Scan items' bar code or pick from menu
Control wireless cash drawer
Send order to food prep printer
Manage menu items, categories, and add-ons
Upload photos of menu items
Enter tips
Work in off-line mode if no network is available
Integrate with QuickBooks, SAGE and other accounting systems
Access real-time access to dashboard analytics
Automated sales reports
Employee time keeping
Add a handheld device for line busting
Add eMobilePOS Kiosk for iPad for self-service


Experience eMobilePOS Live. Sign Up Now.